Recessions are difficult times for investors and capital markets. These periods are characterized by a sustained economic contraction caused by a drop in economic activity. Businesses are impacted as demand, capital investment and consumer spending decline as a response to difficult economic conditions.
When demand and the velocity of expenditure trend downwards, earnings are usually heavily impacted and the consequences are fe. While these conditions pose difficulty for all businesses operating in this environment, some businesses offer some resistance relative to the rest of the market during these periods. Here are our answers to the question: which stocks are the best to invest in during a recession?
Costco Wholesale – Wholesale Retailer of Consumer Staples
Thesis: Consumer staples like groceries, clothing and household goods will see very little change in their demand because they are vital to the lives of consumers. The top line of consumer staple retailers will be largely unaffected by economic recessions.
Why Costco Provides Opportuniteies in Recessions:
Costco's (NASDAQ: COST) operations should be fairly resistant to the pressures of an economic recession. Providing consumers with the necessities they need at wholesale pricing ,. This should be favorable to Costco as consumers become more price conscious as household budgets tighten. and the business has remained favorable among investors over the recent market downturn, providing shareholders with +21.2% returns over the previous 12 months, compared to the -1.8% returns seen by the wider US Consumer Retailing industry.
The most recent example of a recession we can turn to was the COVID-19 recession where economies were plunged into economic turmoil owing to the precautionary measures taken to protect the population. During this period of tightening consumer spending, Costco remained largely unaffected.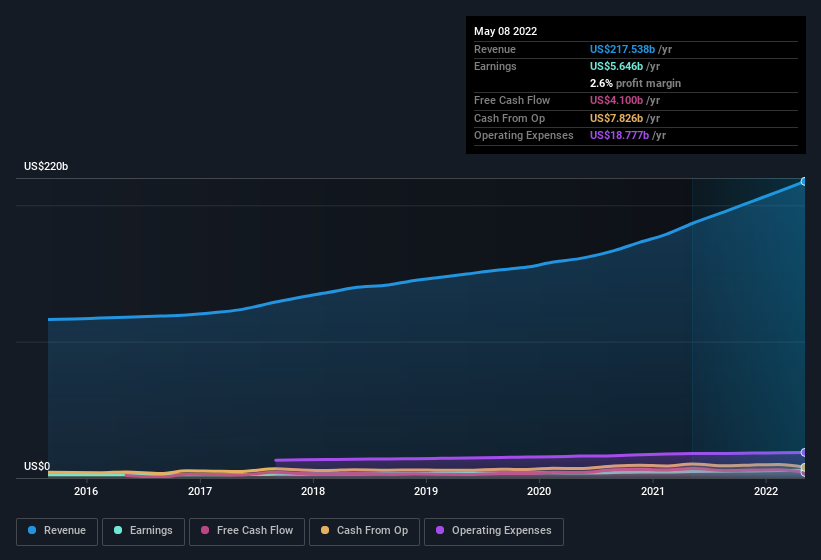 Recent quarterly results for Costco have painted a rosy picture Net sales for the quarter increased 16.3 percent, to $ 51.61 billion, from $ 44.38 billion last year. Net sales for the first 36 weeks increased 16.4 percent, to $ 151.97 billion, from $ 130.61 billion last year.
As we look to the future, analysts are forecasting a 10.2% annual earnings growth for Costco, which outpaces the US Consumer retailing segment. To find out more about what the next few years may hold for Costco, we encourage you to check out our Future Growth Analysis on our Costco Company Report.
Raytheon Technologies (NYSE: RTX) – Government Contractor for Defense
Thesis: Government expenditure on military is usually high and remains consistent during economic recessions. Companies with lucrative government contracts should out-perform the market due to relatively unchanged levels of customer expenditure.
Why Raytheon Provides Opportunities in Recessions:
Raytheon (NYSE: RTX) is one of the largest aerospace and defense companies servicing the United States and other Governments across the globe. In a time characterized by tense geo-political relations, Raytheon's position within the market as a leader in the defense sector will help ensure ongoing resistance and consistent demand throughout market turmoil.
Given global military spending has eclipsed US $ 2 trillion in real terms for the first time in history, countries will be hesitant to budge on defense expenditure even when pressure is placed on national budgets to ensure strategic advantage is not lost. This provides a large and growing addressable market for Raytheon's products.
Raytheon Missiles & Defense, a subsidiary of Raytheon Technologies, has continued to secure lucrative contract awards over the last few months which should provide revenue security into the near future. In the last 30 days alone, Raytheon has managed to secure a US $ 867M Missile Defense Agency contract to deliver SM-3®Block IIAs to the United States and partners and a US $ 624M US Army contract to produce 1,300 Stinger missiles. This should give investors some peace of mind that the business remains strong during in a tough economic climate.
One other important thing to note is that Raytheon has been continually paying a dividend to shareholders – a good sign of a mature and profitable busniness. With the current dividend yield of 2.4% forecasted to grow into the future, shareholders will be appreciative of the guaranteed capital return when the market is providing little else in the way of certainties.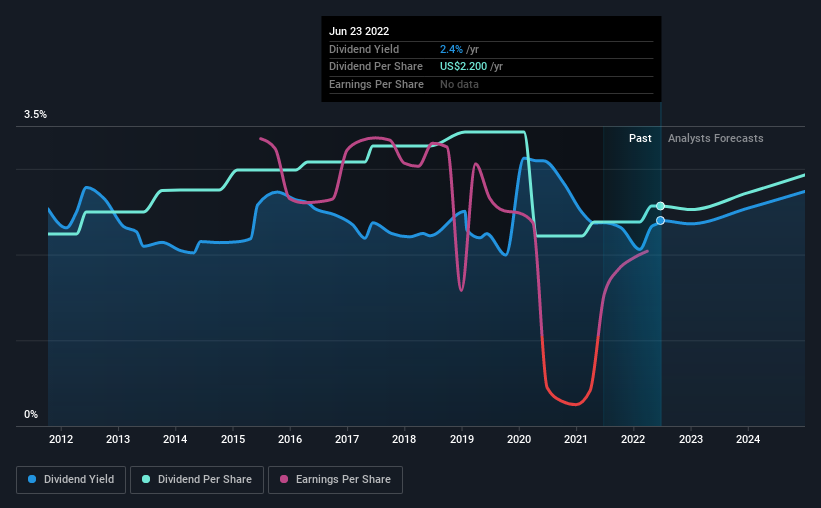 Raytheon's first quarter results were positive, detailing a 4% growth in Q1 sales to US $ 15.7B compared to the same quarter last year. Importantly, the company reported a 45% increase on earnings per share (EPS) to US $ 0.74, outpacing expectations. Operating profit margin increased to 12.1% in the first quarter, up from 7.6% in the first quarter of 2021, which is a great sign that profitability remains strong all while materials and logistics costs rise due to supply driven inflation.
Looking forward to the future, increasing interest rates put pressure on businesses with high levels of debt. Our analysis on Raytheon's net debt to equity has yielded satisfactory results. To find out more about the quality of Raytheon's balance sheet, head to the Raytheon Financial Health Analysis on Simply Wall St.
Have feedback on this article? Concerned about the content? Get in touch with us directly. Alternatively, email editorial-team@simplywallst.com
Simply Wall St analyst Bailey and Simply Wall St have no position in any of the companies mentioned. This article is general in nature. We provide commentary based on historical data and analyst forecasts only using an unbiased methodology and our articles are not intended to be financial advice. It does not constitute a recommendation to buy or sell any stock and does not take account of your objectives, or your financial situation. We aim to bring you long-term focused analysis driven by fundamental data. Note that our analysis may not factor in the latest price-sensitive company announcements or qualitative material.