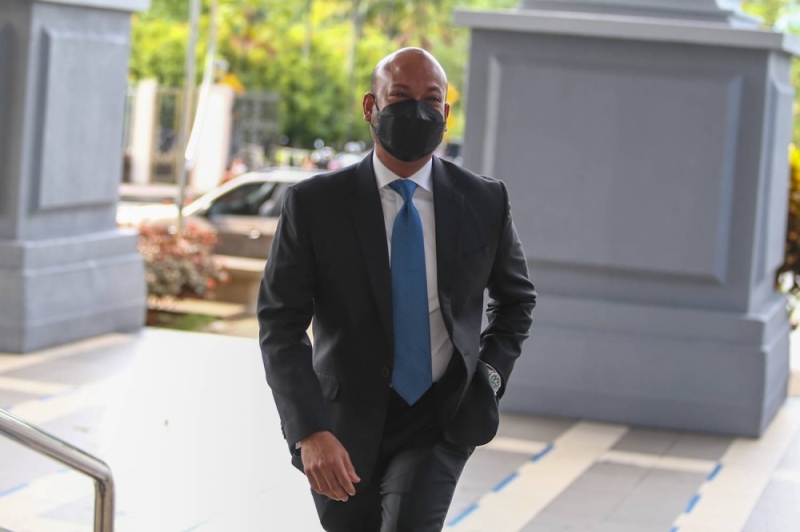 Former 1Malaysia Development Bhd Chief Executive Officer Arul Kanda Kandasamy arrives at the Kuala Lumpur High Court.March 31,2022 – Picture by Devan Manuel
By Ida Lim
Friday, 20 May 2022 11:46 AM MYT
KUALA LUMPUR, May 20 – The Prosecution today applied to have former 1Malaysia Development Berhad (1MDB) CEO Arul Kanda Kandasamy, who is Accused of abetting in the alleged tampering of the auditor-general's report on the Sovereign investment company, Testify against his fellow Accused Datuk Seri Najib Razak in the High Court.
Lead prosecutor Datuk Seri Gopal Sri Ram tendered the public prosecutor's written application under Section 63 of the Malaysian Anti-Corruption Commission (MACC) Act 2009 to call Arul Kanda as his witness in the ongoing trial.
Under Section 63 (1), in a situation where two or more people are charged with an offense under the MACC Act, the court may require one or more of them to give evidence as Witnesses for the Prosecution if a written application is made by the public prosecutor.
Najib's lead defense lawyer Tan Sri Muhammad Shafee Abdullah asked Sri Ram to Briefly provide the prosecution's basis to call in Arul Kanda as a Prosecution witness.
Sri Ram then said the reasons for the prosecution's bid to call in Arul Kanda as a Prosecution witness include that they would have information that would affect the trial against Najib.
"I can inform now, but very broad grounds, I'm not going to make this clear, I'm not going to confine myself to these grounds.
"This Accused has information in relation to transactions with the other Accused which will materially affect the outcome of the Prosecution of that Accused," Sri Ram said, referring to Arul Kanda as the "Accused" and Najib as the "other Accused".
"In other words, he has information in his possession which is relevant to the charge against the other Accused, in relation especially, in particular in relation to the meeting that was held in February, the events that preceded that meeting and the events that followed So those are the areas in which we will be asking questions, "Sri Ram said.
Sri Ram said the Prosecution had not recorded a written statement from Arul Kanda and that the prosecution's examination of or questions to him would be done verbally.
Shafee said Najib's legal team would be objecting to this application.
Shafee asserted that the Prosecution would first have to meet the requirements of the law for the Section 63 application and that it would have to satisfy the court on this application, claiming that this was probably the first time that such an application had been made under the MACC Act 2009 and that it would involve constitutional issues.
Arul Kanda's lawyer Datuk N. Sivananthan did not object to the prosecution's application to have his client called in as a Prosecution witness, and said they would leave it to the court's discretion to decide on this application.
The trial before High Court judge Mohamed Zaini Mazlan will resume on May 30, with both the Prosecution and Najib's Lawyers to put in their written submissions to the court on this application.
Ahead of the High Court's hearing on the application on May 30 to have Arul Kanda become a Prosecution witness, the Prosecution will submit its written submissions on May 23 while Najib's legal team is expected to submit its written submissions on May 26.
On the first day of this trial is November 18, 2019, Sri Ram had on behalf of the Prosecution said Najib had allegedly taken "positive steps" to alter or remove passages that were actually true in the auditor-general's report on 1MDB.
Sri Ram had also said that a February 24, 2016 meeting allegedly held on Najib's instructions had resulted in the amendment and removal of passages from the auditor-general's 1MDB report, and that Arul Kanda had allegedly abetted Najib on this.
Also on the first day of the trial, Sri Ram had already informed the court that the Prosecution would file a Section 63 application to have the Prosecution witness in the future at an appropriate stage of this trial.
The trial has so far gone on for close to 30 days, and today was when the Prosecution submitted the Section 63 application.
Section 63 (3) provides that every person Accused under the MACC Act and required to give evidence as Prosecution witness "shall be entitled to receive a certificate of Indemnity" if the court finds that he has made a "true and full Discovery" of all things to which he was examined on, with this certificate to be a bar to all legal proceedings against him over such matters.
Sivananthan had previously in November 2019 told Reporters that if the court allows Arul Kanda to be a Prosecution witness, it is his view that Section 63 would mean that the charge against his client Arul Kanda must be withdrawn after he completes his testimony as a Prosecution witness against Najib.
Arul Kanda is currently an Accused person in this trial.
Earlier today, former auditor-general Tan Sri Madinah Mohamad completed her testimony as the 12th Prosecution witness in this trial.
MACC Assistant commissioner and head of MACC Langkawi, Syed Aswadi Syed Soffian also tested today as the 14th Prosecution witness in the trial.
Syed Aswadi, 41, who had been trained and worked as a computer Forensics Inspector in MACC, today Verified details regarding the process taken by MACC in analyzing an audio clip in a flash drive.
In this trial, Najib is accused of having as then prime minister and then finance minister abused his position between February 22, 2016 and February 26, 2016 to receive self-gratification in the form of protection from civil or criminal action over his role in the handling of 1MDB operations, by instructing for amendments to the auditor-general's report is 1MDB — which was already finalized and ready to be presented to the PAC — before it was finally presented to the PAC.
Arul Kanda was charged with abetting Najib.
Both their offenses are punishable under the Malaysian Anti-Corruption Commission (MACC) Act 2009 with a maximum of at least five times the amount of gratification or RM10,000 or whichever is higher.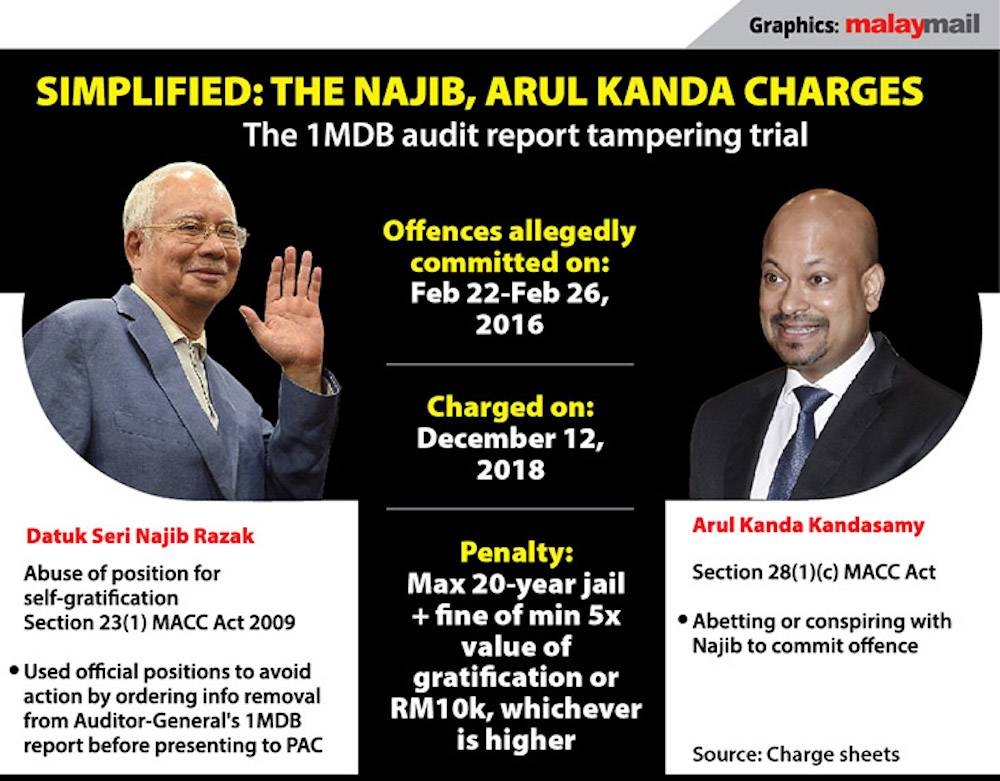 .