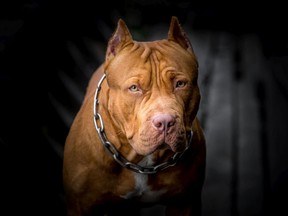 Article content
My first thought, on hearing about this dreadful tragedy, was "I bet they were pit bulls."
Article content
Now, this is undoubtedly prejudicial thinking on my behalf, simply based upon an initial, barebones news report about an 86-year-old woman in the Capitol Hill area of ​​northwest Calgary being attacked and killed by three dogs while working in the alley outside her home.
Granted, I don't possess that intense, overwhelming love of dogs that appears so prevalent in many folk these days, but I like them well enough as pets and have owned a few down the years. So, while preferring an old photo of my children on my desk to that of some long-gone family dog, I'd balk at being called an animal hater.
Yet, if told that every breed of pit bull, Staffordshire terrier and the other assorted varieties of these potential killing machines had suddenly keeled over one fine morning and snorted a final, collective breath, I'd consider that a good start to the day.
Article content
Why anyone would own one is beyond me. Perhaps it's pity; feeling sorry for the animals because a lot of folk share similar opinions to myself, though admittedly possessing more sense than to make them public and invite the inevitable onslaught that's now heading my way.
Some – and I know a few of this type – own such dogs because of the menace the animals immediately bring to the table. They want to scare people and turning up with a pit bull on a leash (or not, as the occasion might merit) is a darn good way to achieve that goal.
There are even groups dedicated to rescuing unloved and abandoned pit bulls from other parts of North America by bringing them to Alberta. These people undoubtedly have big hearts, but couldn't they focus on orphaned children instead?
Article content
Anyhow, the likely response to such criticism will follow its usual dreary path. It's bad owners, not bad dogs that are the problem. The argument rings similar to those who believe semi-automatic weapons are a suitable staple for every household; that guns don't kill people, people kill people.
Well, perhaps that's true, but personally, I'd rather be shot with a water pistol and I'd rather be bitten by a poodle.
Because it's the damage inflicted that sets these dogs apart. Other breeds bite, but they don't have the crushing, deadly, pounds-per-square-inch power of those massive jaws.
Some folk reading this might now be imagining those jaws on their leg, or worse, their neck, which is why many Calgarians feel a shiver of fear when such a dog walks into sight. And don't think the animal doesn't sense that fear, which simply amplifies the tension and thereby increases the risk of attack.
Article content
OK, so if we accept that dogs, capable of ripping people apart at the seams, are never to blame for such behavior because they are victims themselves of owner neglect, stupidity or abuse – a familiar refrain, well beyond the canine world – then let's run with that and see where it takes us.
If the owner is responsible for an animal that kills someone, then that owner should face a manslaughter charge, at the very least. If the dog maims someone, then aggravated assault would be appropriate. Guilty verdicts come with serious jail time on those charges.
In similar fashion, the civil court system should provide serious financial redress for any injuries inflicted upon an innocent bystander by these animals. A few damage awards requiring the subsequent sale of an owner's home would seem reasonable and appropriate.
Hey, if bad owners are the cause, then bad owners should pay a commensurate heavy price.
Oh, and I almost forgot. The following day further details emerged in the Calgary Herald about this dreadful event, including the following paragraph: "Police said the three dogs involved are believed to be a North American pit bull terrier mix, a North American Staffordshire mix and an American pit bull. "
Just because you're prejudiced doesn't mean you're wrong.
Chris Nelson is a regular columnist for the Calgary Herald.