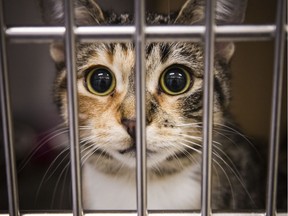 Article content
Calgary pet shelters are at capacity and are looking to Calgarians for support by either considering animal adoption, or a number of other actions to ease stress on the animal care system.
Article content
According to a city press release, over the last few weeks, the Calgary Humane Society has responded to large-scale animal seizures resulting in their shelter being over-capacity. Alberta Animal Rescue Crew Society is currently responding to a distemper outbreak in dogs in their shelter, and is at capacity for cats they can care for.
Additionally, the City of Calgary's Animal Services is overwhelmed with the volume of recent stray animals received, and calls for response to strays continue. Due to these factors, pet shelters, humane societies and rescue shelters in Calgary and surrounding area are full.
The press release said the City and partnering organizations are asking Calgarians to help the local pet population by considering a number of actions.
Article content
For timely family reunions, Calgarians should ensure their pets are licensed to help the City reunite you if a pet escapes. It's also important to have additional identification for your pet and to double check that your address and phone numbers are current under your pet's license or identification. Additionally, the City is asking Calgarians to look for their pets if they are lost. Check with neighborhood veterinary clinics, social media groups and consider lost pet posters.
The release also provided a number of tips to avoid shelters:
Please consider not surrendering your pet if not absolutely necessary:
Try to work through issues or ask friends and family for help.
Consider food assistance resources including AARCS Pet Food Bank and Parachutes for Pets.
If you are having behavioral issues (ie: chewing on household items, food bowl guarding, barking, reactivity to other animals) seek help through online resources or a local pet trainer.
Make sure your yard is in good condition and secure, and do not leave your pets unsupervised in your yard.
Keep your cats indoors, they do not need to go outside unless you have a cat run or is supervised.
Do not drop off healthy stray animals found in your neighborhood at this time (a temporary measure to ensure space is available for distressed or injured animals).
If you find a healthy pet roaming, please leave them or post on social media sites such as YYC Pet Recovery, Calgary Dogs, and / or Lost Dogs, Cats & Pets.
If you find a stray cat or dog that is injured or in distress, call 311 or take it to a veterinary clinic.
Article content
If Calgarians are in the market for a pet, consider adopting to make room for those in need. If you can't adopt, fostering an animal is another way to make room, and gives a cat or a dog the chance to be outside of the shelter environment while waiting to be adopted. Donations are also another important way to help these organizations.
Due to the current capacity issues, the City is temporarily suspending its Cat Trap program, and will be reinstated once the animal crisis subsides.
The City will also soon reinstate dog adoptions, by appointment only, to support shelter partners experiencing capacity issues. For more information, visit the City's website.